ZOOM REMOVES THE TIME LIMIT FOR  VIRTUAL THANKSGIVINGS
You may never have even heard of Zoom — or perhaps used the videoconferencing service only for work. But then COVID-19 changed everything.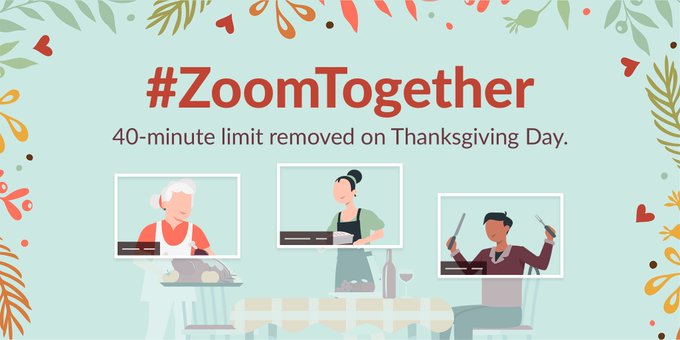 Zoom is now a thing for pretty much everyone, including older adults who are "zooming" for family check-ins, book club meetings, happy hours, fitness classes, weddings and religious ceremonies.
"I need the socializing, since the pandemic is so depressing and isolating," says Alyce Appleman Mariam, 60, whose husband, Tom, taught her to use Zoom. Since then, the Rye Brook, New York, teacher has used the service to connect with cousins, to participate in a Passover seder and to play mah-jongg with friends.
For 30 hours encompassing Thanksgiving Day in all time zones for U.S. states — after the clock strikes midnight ET at the start of Thursday, Nov. 26 to 6 a.m. ET Friday, Nov. 27 — Zoom will remove time limits on its teleconferences for free accounts, the company wrote last week on Twitter and Facebook. That way, families that have decided to celebrate the holiday at a distance still can have conversations and a communal meal virtually.
#thehelpfulagent #pets #houseexpert #housing #home #move #realestate #realestateagent #home #househunting #forsale #newhome #dreamhome #familyhome #brianchandler #parkercolorado #realtor #realestate #realestateagent