Homebuyers are on the prowl with low-interest rates hovering around 3%.
One of the biggest surprises of 2020 is the resilience of the residential real estate market and homebuyers. Lawrence Yun, Chief Economist of the National Association of Realtors (NAR), is now forecasting that will sell this year than last year. He's also predicting home sales to increase by 8-12% next year. There's strong evidence that he will be right.
ShowingTime, a leading showing software and market stat service provider for the residential real estate industry, just reported on their latest the ShowingTime Showing Index:
"Homebuyers traffic jumped again in July, recording a 60.7 percent year-over-year increase in nationwide showing activity."
That means there are 60% more homebuyers setting appointments to see homes than there were at this same time last year. The number of potential purchasers was also up dramatically in every region of the country:
The Northeast was up 76.6%
The West was up 56.7%
The Midwest was up 52.1%
The South was up 46.7%
The Housing Market Is Showing a 'V' Type Recovery
ShowingTime also indicates the real estate market has already come back from the downturn earlier this year that was caused by homebuyers shelter-in-place orders. Here are the year-over-year numbers for each region on a monthly basis (See graph below):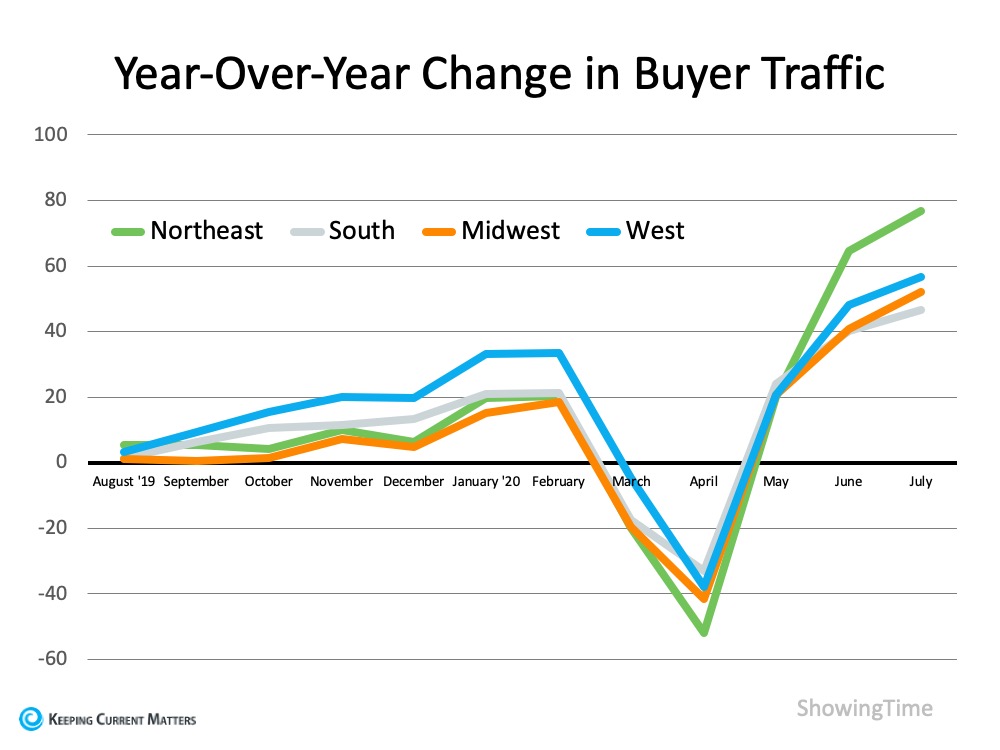 We're way ahead of where we were at this time last year. This data validates the thoughts of Frank Martell, President and CEO of CoreLogic, who recently
"On an aggregated level, the housing economy remains rock solid despite the shock and awe of the pandemic."
Bottom Line
If you're thinking about selling your house, this may be a great time to get the best price and the most favorable terms from homebuyers.
---
DOUGLAS COUNTY COLORADO 2nd healthiest County in the US. Here are some cities in Douglas County.
Castle Rock
Parker
Highlands Ranch
Lone Tree
Castle Pines
Larkspur
Sedalia
Roxborough Park
Franktown
Perry Park
The Pinery
Louviers
Stonegate
Westcreek
Meridian
Heritage Hills
#thehelpfulagent #pets #houseexpert #housing #home #move #realestate #realestateagent #home #househunting #forsale #newhome #dreamhome #familyhome #brianchandler #parkercolorado #realtor #realestate #realestateagent